New gpd win max 2 10.1 inch amd ryzen 7 6800u win 11 4g gaming laptop notebook portable game computer 16/32gb ram 1tb/2tb nvme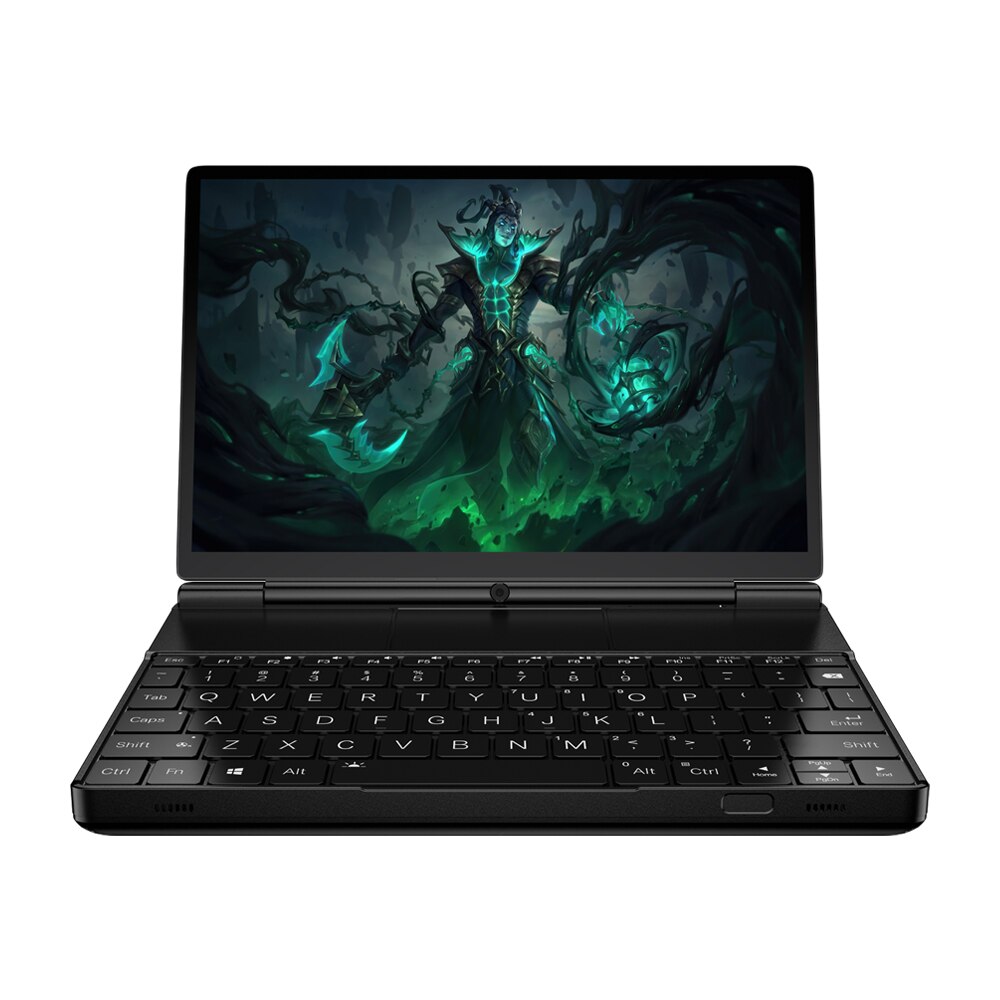 ID: 110623
New GPD WIN Max 2 10.1 Inch AMD Ryzen 7 6800U Win 11 4G Gaming Laptop Notebook Portable Game Computer 16/32GB RAM 1TB/2TB Nvme
Price:
US $
4804.00
/
piece
Color
Plugs Type
Processor Model
Quantity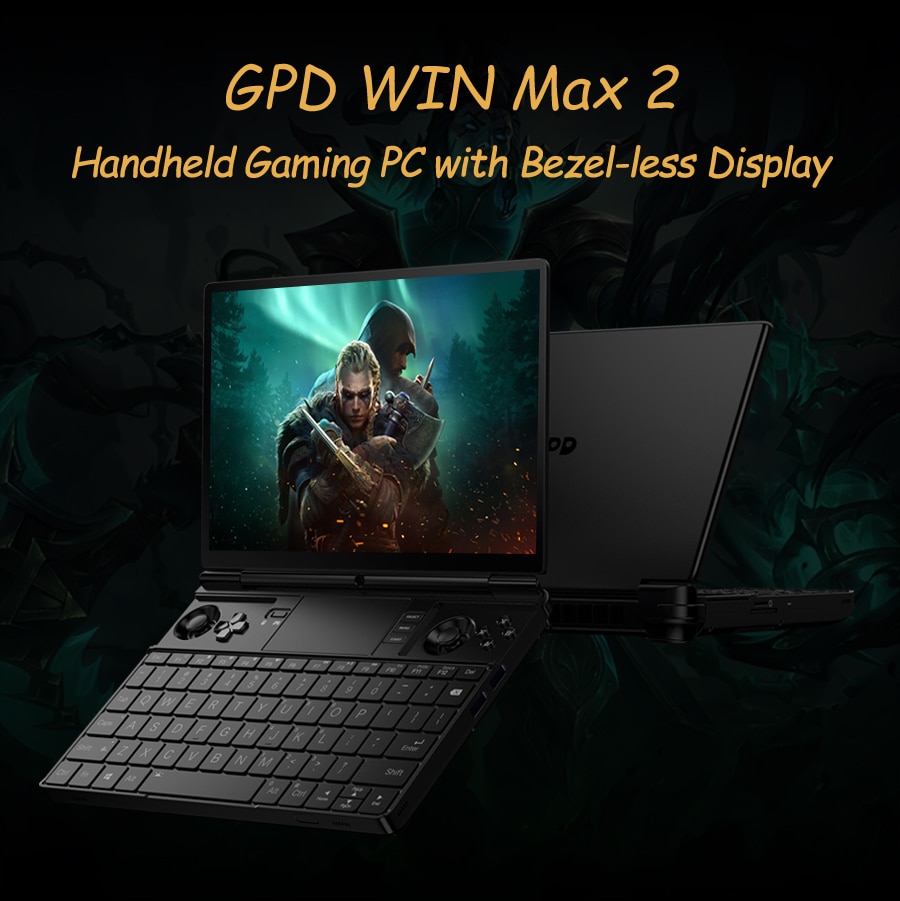 A Sensible Choice Of Built-in Ports For Easy Expansio
A sensible selection of ports that would suits in most situation even when gaming, including fast Thunderbolt
4 (USB4 for AMD) that supports eGPU and 100W PD charging, HDMI 2.1, 3x USB 3.2 Gen 1, full-featured USB Type-C, SD, microSD slot for storage expansion.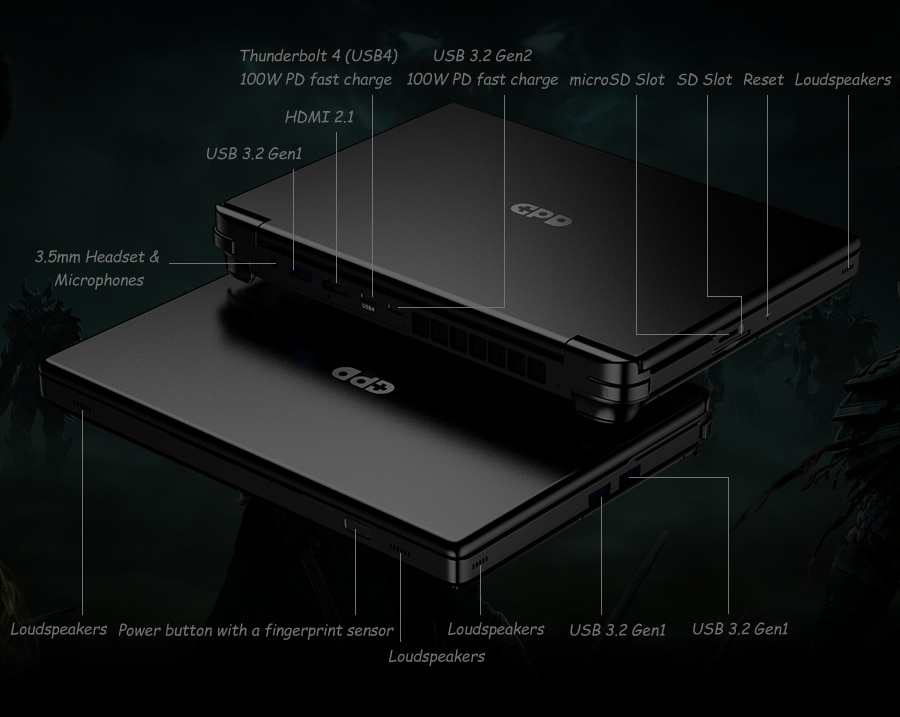 10.1-inch Display With Ultra-narrow Bezel, Eye Protection And Native Landscape Mode
Great news for anyone who loves handheld gaming on a big screen! WIN Max 2 is featuring an ultra-narrow bezel 10.1-inch IPS screen with eye protection, 90% screen-to-body ratio, and fifth-generation Corning Gorilla Glass. Its native landscape mode set you free from all worries regarding aspect ratio compatibility issues with older games. It has a default resolution of 1920×1200, a maximum resolution of 2560×1600, 299PPI, and a relevant aspect ratio of 16:10.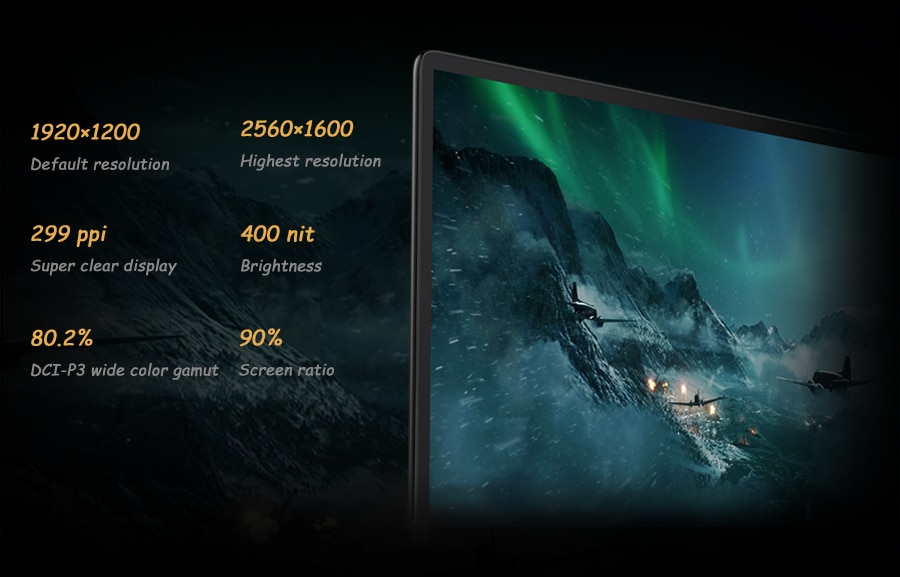 Supports 10-point Touch, Active Pens With Up To 4096-level pressure-sensitivity, Unique Metal Mesh Technology
It is supporting 10-point touch, and active pens with up to 4096-level pressure-sensitivity (MPP2.0, including Surface Pen). The first of our device to introduce Metal Mesh technology, which helps in improving display clarity, preventing drifting and ghosting when using active pens.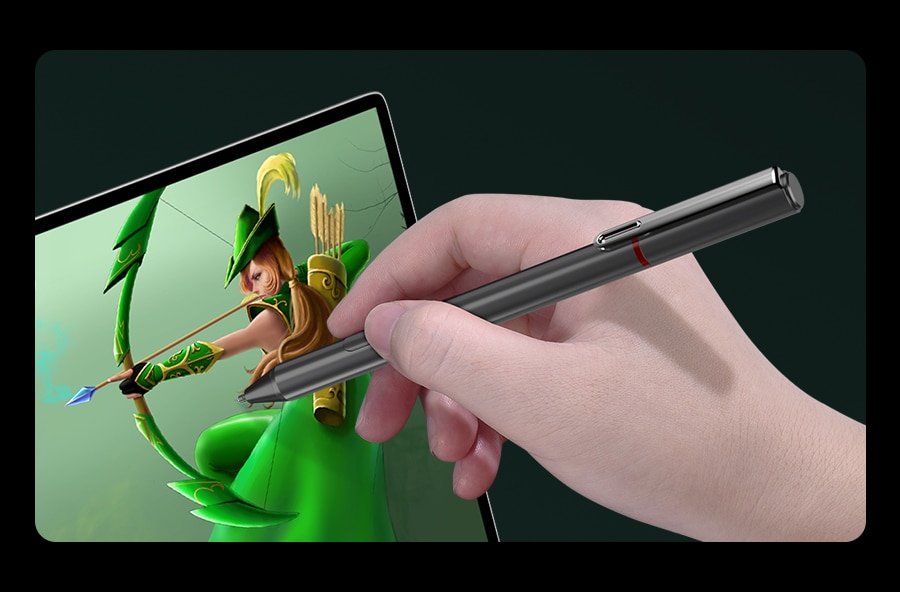 All-metal Apple-style Unibody Design Made Of 6061 Aluminum-magnesium Alloy With A Touch Of Aviation Grade ABS
All-metal Apple-style iron black unibody design made of 6061 aluminum-magnesium alloy with 36 precision CNC processes. The bottom shell is made of aviation-grade ABS synthetic resin to keep a cool and comfortable two-hand grip experience!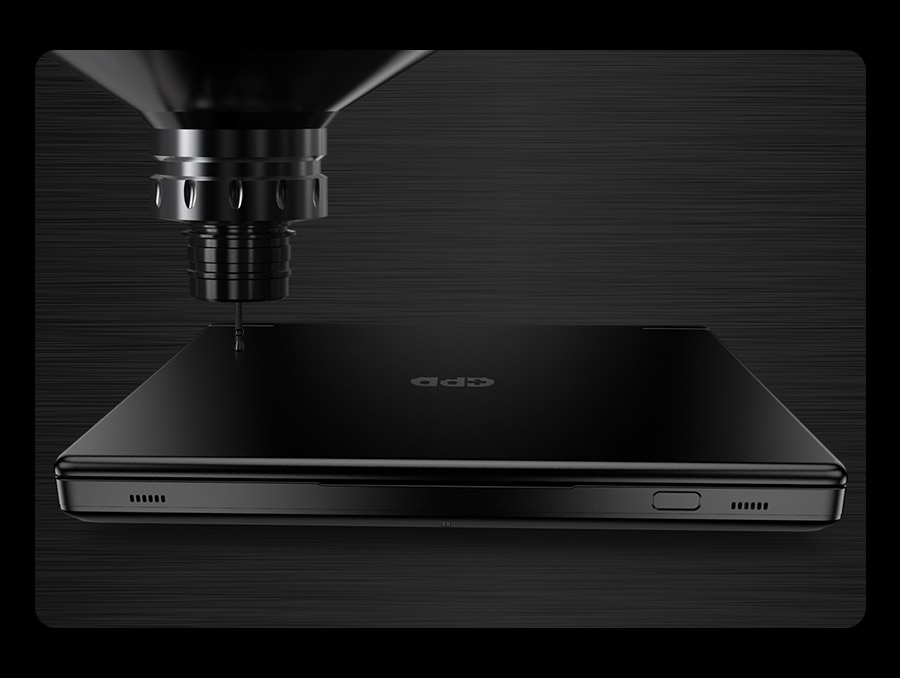 New Generation Of AMD Ryzen 7 6800U (Optional) Processor With AMD Radeon 680M RDNA2 Graphics
WIN Max 2 AMD's version has the latest AMD Ryzen 7 6800U processor featuring a 6nm process, 16MB L3 cache, 8 cores / 16 threads, and a maximum turbo frequency of 4.7GHz.
The processor comes with an AMD RDNA2 Radeon 680M Graphics which has 12CU, 768 shader processors and high-speed Infinity Cache. Compared with RDNA1, RDNA2 has a 30% higher boost frequency when using the same power, and up to 54% more performance per watt.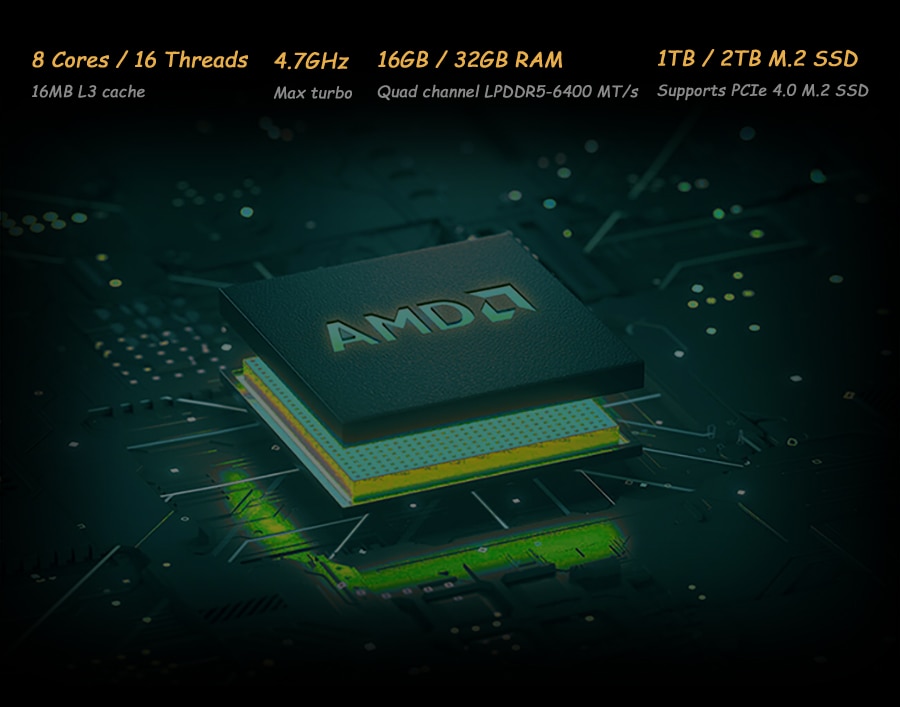 RDNA2's Floating-point Performance Are Doubled Compared To The Previous Generation
Thanks to dual-channel LPDDR5-6400 MT/s memory with a bandwidth of up to 12.8GB/s, the memory bandwidth of RDNA 2 is improved as well, and its performance is nearly 3 times higher than the ones of the Radeon Vega 8! Compared to Intel Iris Xe Graphics, RDNA2 boasts far better theoretical performance in half-precision (FP16), in single-precision (FP32) floating-point tests, 100% faster pixel and texture calculation, and support for DirectX 12 Ultimate.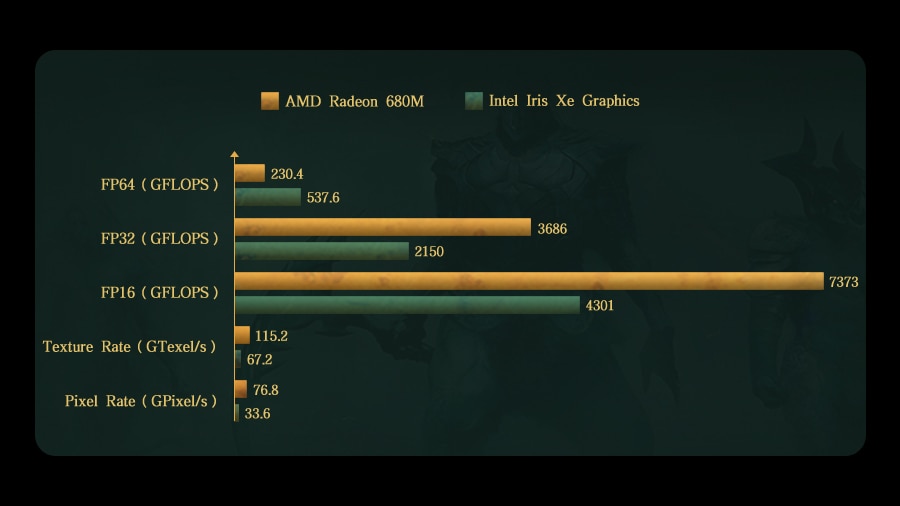 The Powerful AMD Radeon 680M's Graphic Capacity Allows A Great Amount Of Games To Run Around 45~60FPS With 1920×1200 Resolution
Thanks to the significantly improved performance, the AMD Radeon 680M's graphic capacity can allows a great amount of AAA titles from the past two years run around 45~60fps with 1920×1200 resolution.
In addition, RDNA2 also supports AMD's latest FSR 2.0 and RSR 2.0, which can generally increase the game running frame rate by 50% (even 100% for certain titles) without increasing power consumption by much.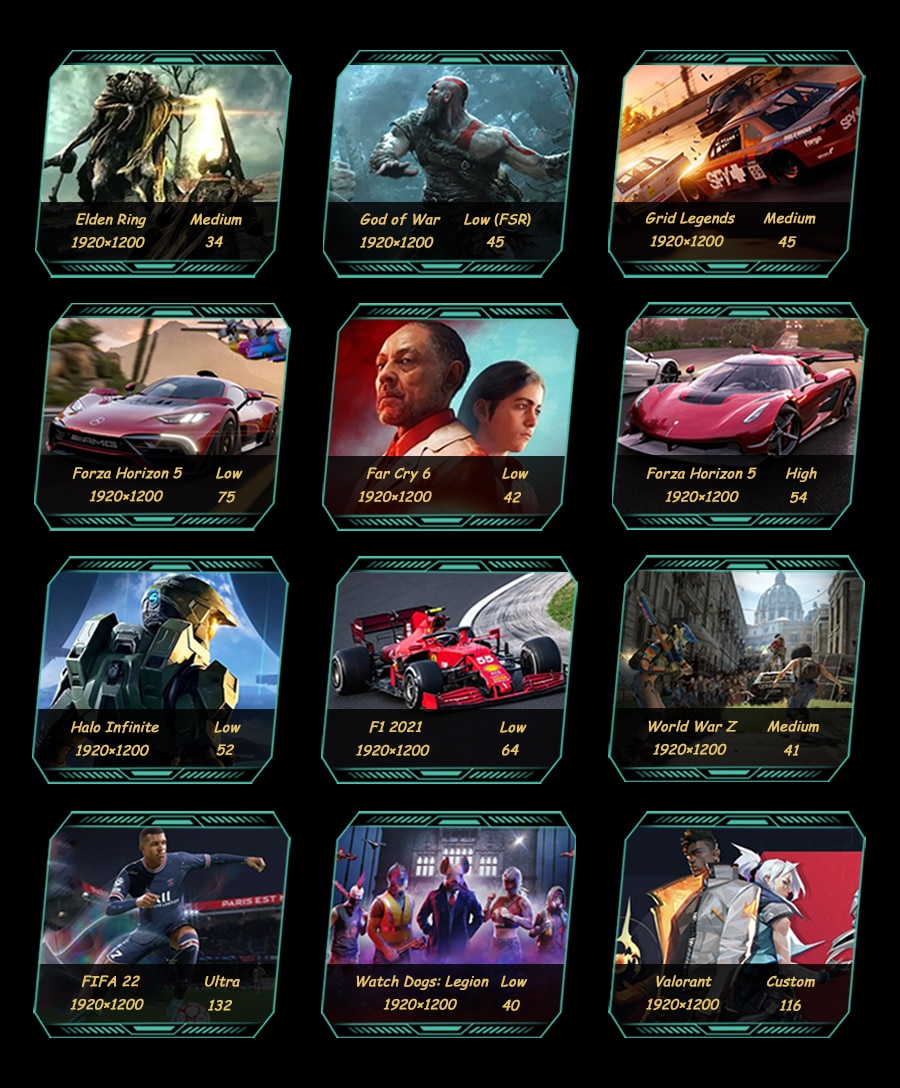 Intel 12th Gen Core i7-1260P Processor (Optional) With Intel Iris Xe Graphics
The Intel version of WIN Max 2 comes with the latest 12th gen Core i7-1260P processor featuring 10nm process technology, 18MB L3 cache, 4 Performance cores (8 threads) and 8 Efficient cores (totaling 16 threads), a maximum turbo frequency of 4.7GHz. The Intel Iris Xe Graphics has 96EU, 768 shader processors.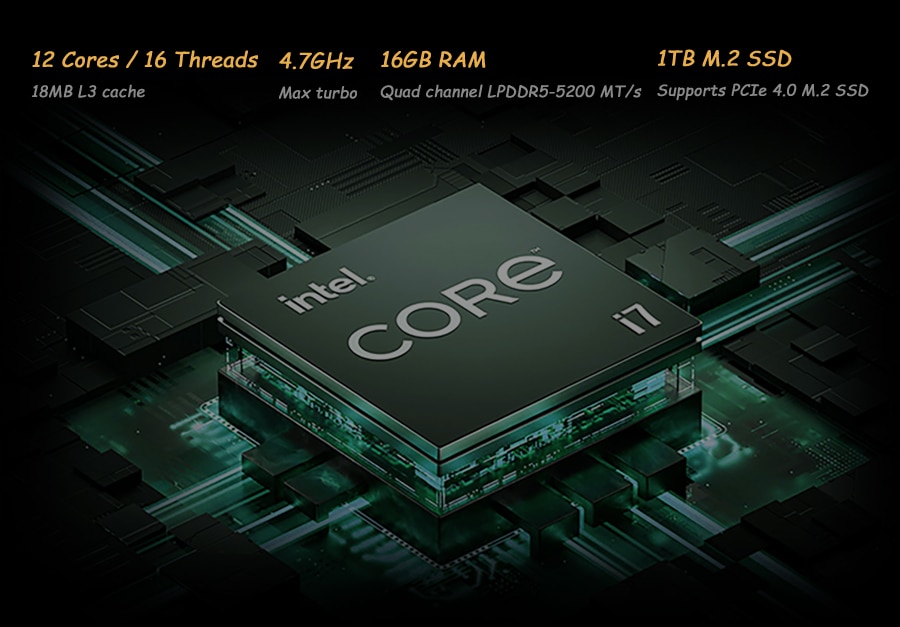 In The Geekbench 5 Tests, It Outperforms The Core i7-11700K In Both Single And Multi-core Results
According to the Geekbench 5 test results, Intel 12th-gen Core i7-1260P's performance are doubled compared to Intel 11th-gen mobile processor Core 1195G7's ones, its single-core and multi-core performances surpasse those of Intel 11th-gen desktop CPU-Core i7-11700K, which might be due to other components
With XeSS Oversampling Technology, Intel Iris Xe Graphics Boasts 153% Game Frame Rate In Super Performance Mode
Thanks to dual-channel LPDDR5-5200 MT/s memory with a bandwidth of up to 10.4GB/s, the memory bandwidth of Iris Xe Graphics 2 is improved as well; which together with XeSS oversampling technology; allows the Intel Iris Xe Graphics to have 153% 4K gaming performance when running in the super performance mode (source: Intel's official report)

Highly Efficient Intelligent Cooling Solution With A Large Turbo Fan And Dual Heat Pipe Design
WIN Max 2 comes with an improved PC-grade cooling system with a large turbo fan + dual heat pipes, which boasts high volume side air blow and highly intelligent speed control. When the internal temperature is lower than 40°C, the fan speed will not exceed 20% of its maximum capacity. When the internal temperature reaches higher than 40°C, the fan speed goes up in 2% PWM increments until reaching its maximum threshold (100%).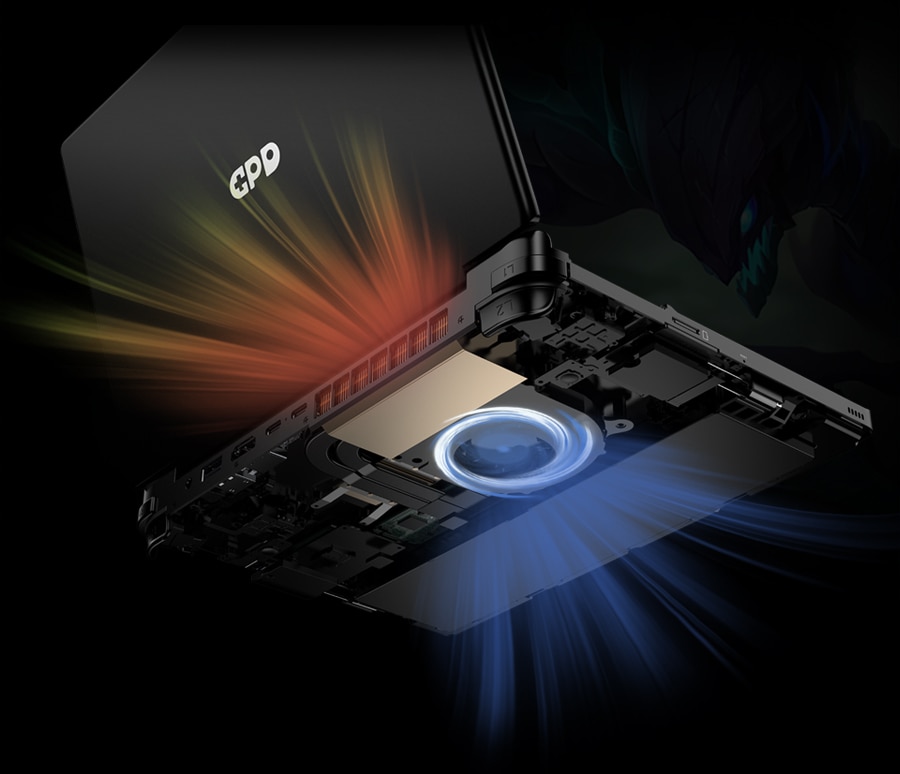 Hall Sensor Sticks (First Time In Our Devices), Stepless, Great Linearity, No Dead Zone Neither Stick Drift
The traditional potentiometer stick that relies on the resistance brush to generate the voltage signal is prone to "drift" issues caused by wear and tear in long-term use. With WIN Max 2, we've introduced for the first time Hall Sensor sticks with built-in inductance coils. The working principle of magnetic induction (different magnetic fluxes are generated when the stick rotates to different positions, which in turn generates different voltage signals) determines that Hall Sensor sticks have no wear and tear, and therefore won't have the issue of stick drift! The sticks also adopt a stepless design for achieving 360° super-linear signal output without any dead zone.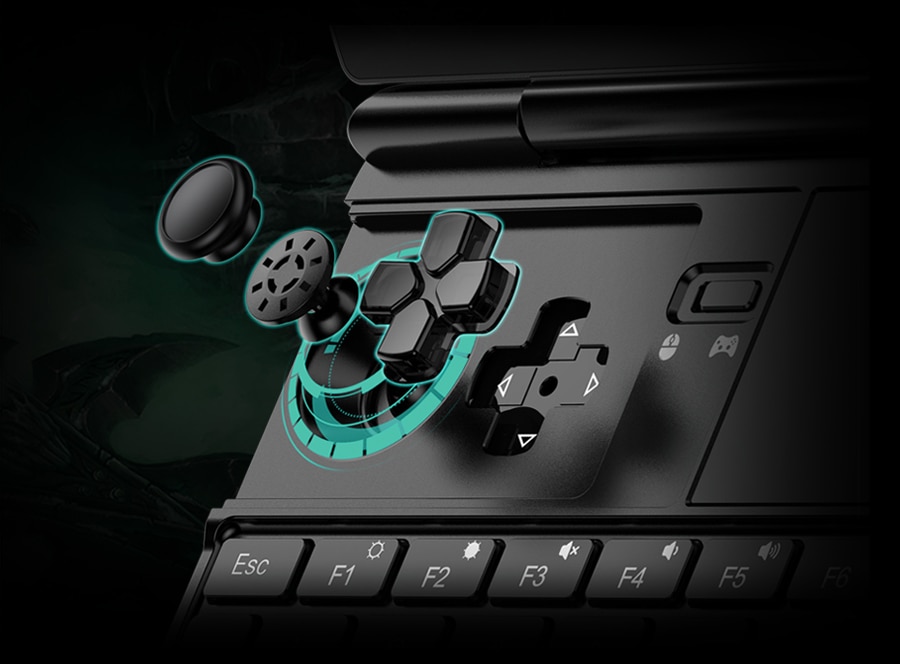 2 Mappable Back Buttons For Flexible Customization For Gaming Control Or Software Shorcuts
To enable quick response in games, WIN Max 2 has 2 mappable buttons like on WIN 3's back, which can be set to any in-game control actions with the WinControls tool, allowing for quick actions without using the keyboard and enhancing the gaming experience!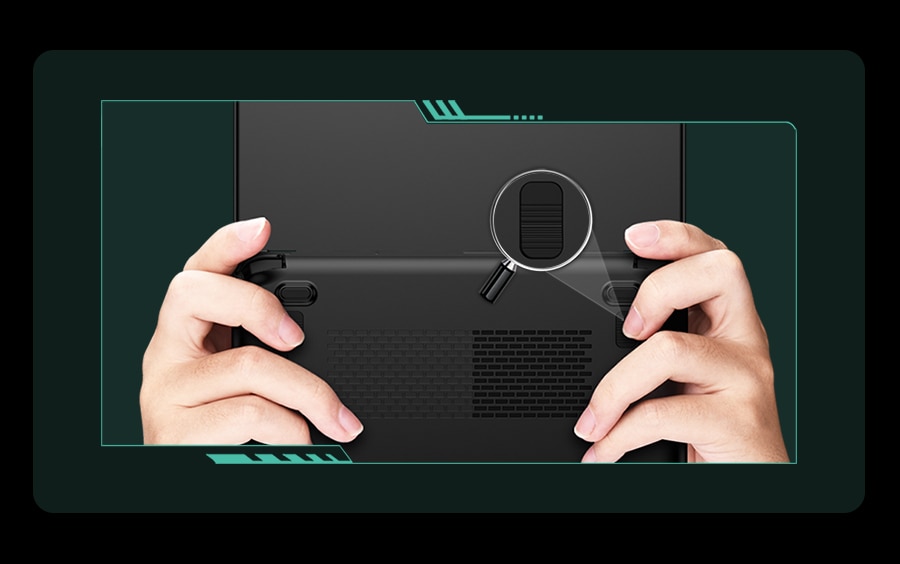 Analog Triggers That Simulate "Gun Triggers" Or "Throttle Pedals"
Analog triggers supporting 256 levels of feedback, allowing a more "immersive" gaming experience, including progressive acceleration in racing games and trigger-pulling sensation in shooters.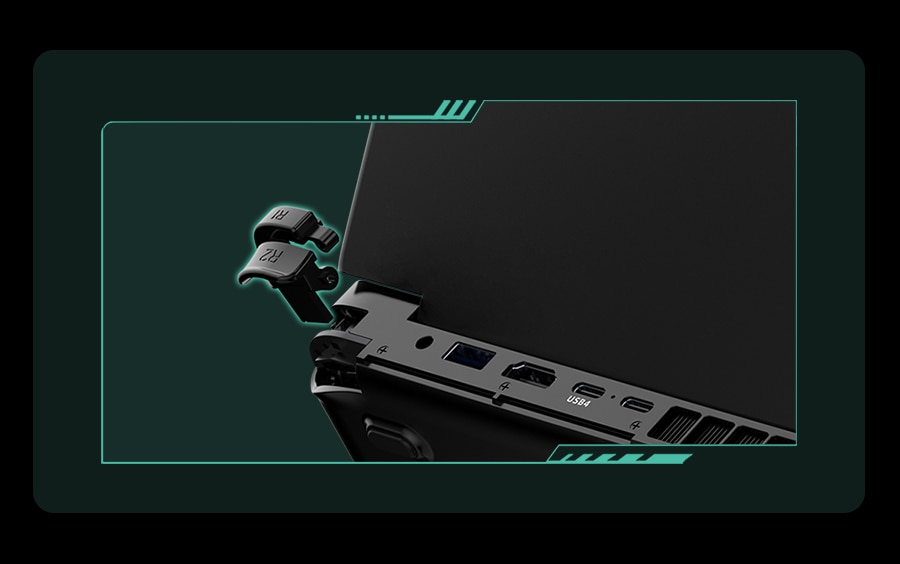 Dual Vibration Motor With Software Control (Off, Weak, Strong)
The built-in dual vibration motors can give you more "realistic" feedbacks when you are performing in-game actions such as shooting guns and starting vehicles! The vibration intensity can be adjusted through a software solution (there are three levels, named "off", "weak" and "strong")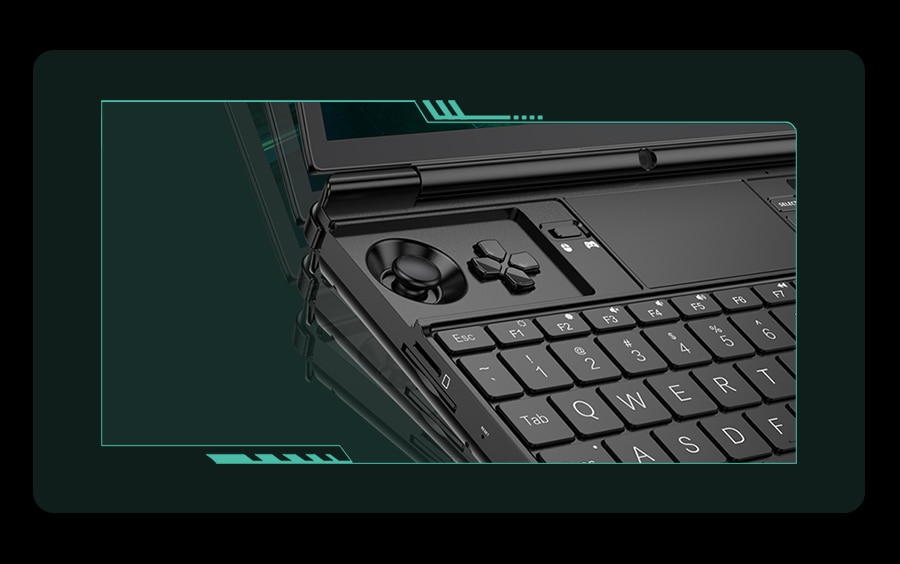 6-axis Gyroscope And Dedicated Setting Software For Perfect Gaming Control With Motion Sensing
With a built-in 6-axis gyroscope, WIN Max 2 supports control with motion sensing and could be used for various games such as racing titles, which helps enhance the fun and depth of the gaming experience. The dedicated gyroscope setting software supports free adjustment of various functional parameters for more flexible viewpoint control!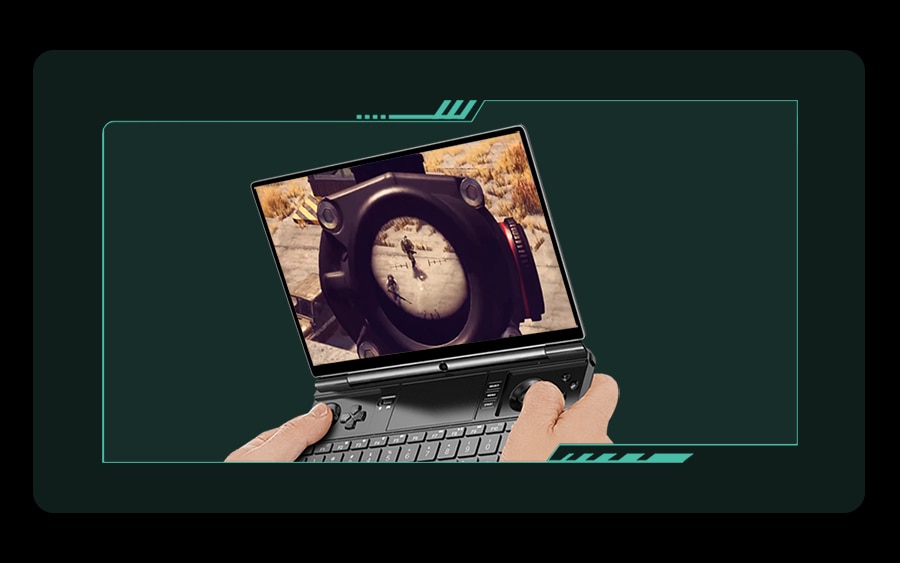 Built-in Magnetic Controller Cover To Switch Instantaneously Between A Gaming Handheld And A Business Laptop Modes At Any Moment
The game controller built into the handheld gaming PC can make it unsuitable for the workplace! To solve this problem, we added two stick covers for WIN Max 2. The magnetic design ensures that the two covers won't fall off when using the device. When playing games, you can also stow the covers in the rear compartment, which helps prevent accidental loss!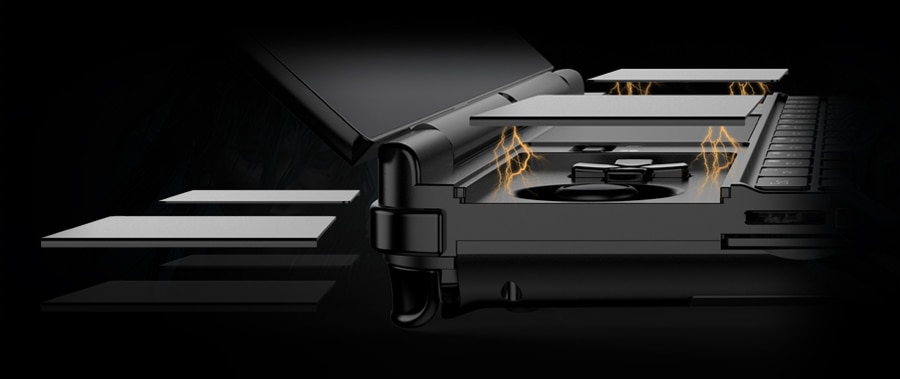 The Front Side Is The Cover, The Back Side Is The Storage Compartment. Actual Effect Demonstration
The effect image of the front cover and the back storage, when it covers, it is a 10.1 inch notebook. when gaming, you can insert the cover into the storage compartment on the back!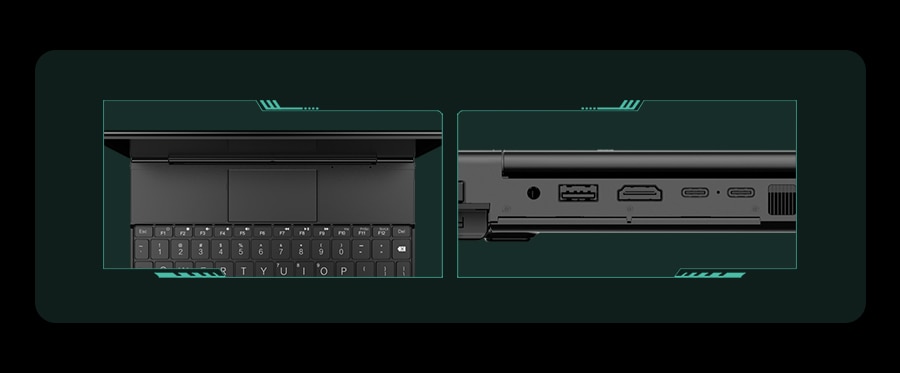 eGPU support (AMD via USB 4, Intel via TB4)
AMD users, behold! The AMD version of WIN Max 2 has a USB4 port supporting up to 40Gbps transfer rate. The USB4 interface natively supports the Thunderbolt 3 protocol, so now you can play games with the AMD version of WIN Max 2 connected to a Thunderbolt 3 eGPU!
The Intel version of WIN Max 2 has a built-in Thunderbolt 4 port which can be used to connect to a more efficient Thunderbolt 4 eGPU!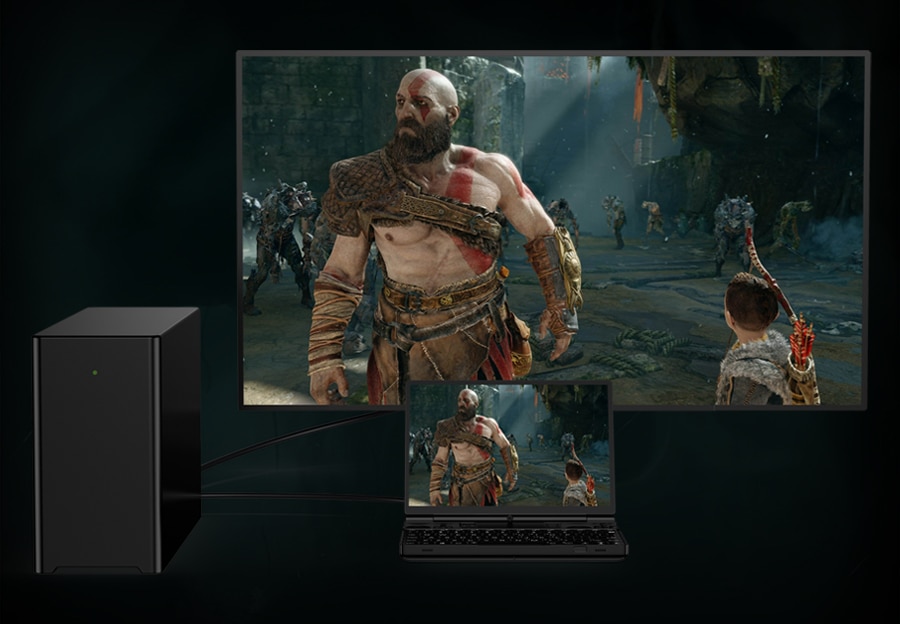 Comes With One Large Capacity M.2 2280 SSD And One M.2 2230 Slot For Easy Capacity Expansion
For the unlimited expansion of storage space, in addition to an M.2 2280 slot already occupied by the machine's own nvme ssd, there is also an M.2 2230 slot on the back of the Max 2's motherboard. Both slots are based on the PCIe 4.0 × 4 bus, with a theoretical throughput of up to 7.877GB/s. Due to restraints in terms of body thickness, both M.2 slots only support single-sided SSDs. The machine comes with a PCIe 3.0 SSD. If you want faster read and write speeds, you can replace it with a PCIe 4.0 SSD.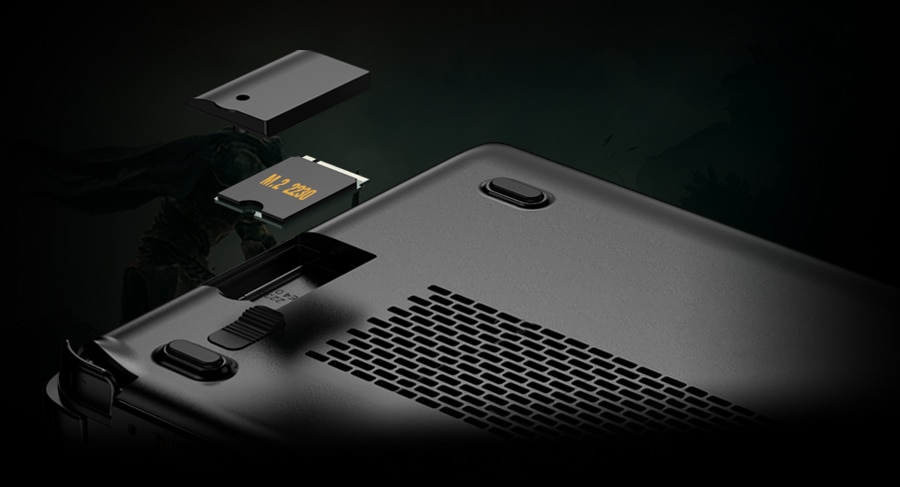 Note: Max 2 Only Supports Single-sided SSDs
WIN Max 2 supports 2230 and 2280 SSDs, but the SSD itself must be single-sided rather than double-sided!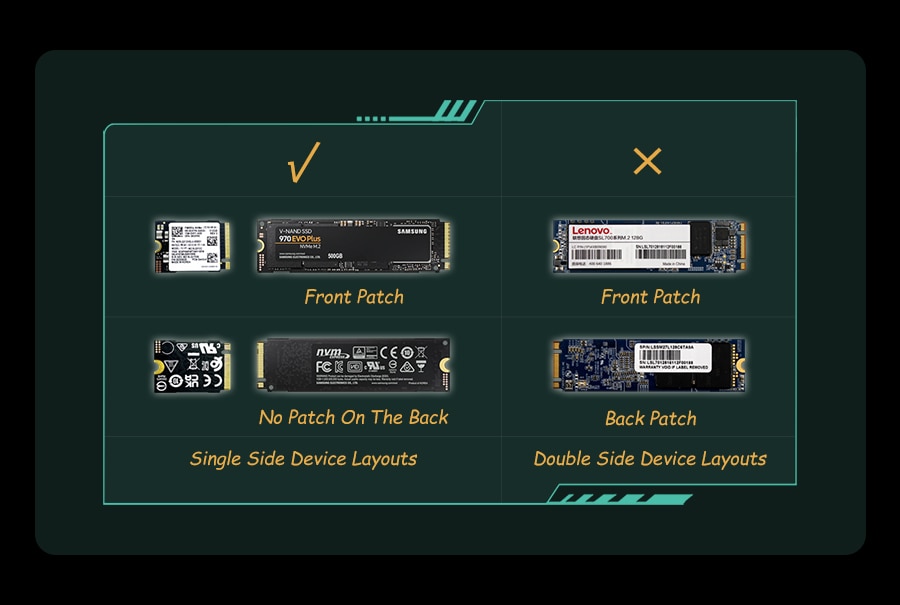 Optional 4G LTE Module With Full Operator Support For Gaming Anytime, Anywhere
After the launch of the first-generation GPD WIN handheld, some users suggested we should add a 4G LTE module to the follow-up products, so that they can play online games anytime, anywhere. However, due to various constraints (internal space, heat generation, cost, etc.), we had been unable to add this feature in the past. This time, we finally did it, adding a 4G LTE module that supports 4G TD-LTE, FDD-LTE and 3G CDMA in WIN Max 2, which is comparable in performance to mainstream laptops and can be used in more complex scenarios.
Considering that some users may not need 4G capabilities, we have adopted a detachable module design, allowing anyone who needs a 4G connection to put the module into the slot on the back of the machine. The operation is very easy, just remove the cover and slot in the module and you are done!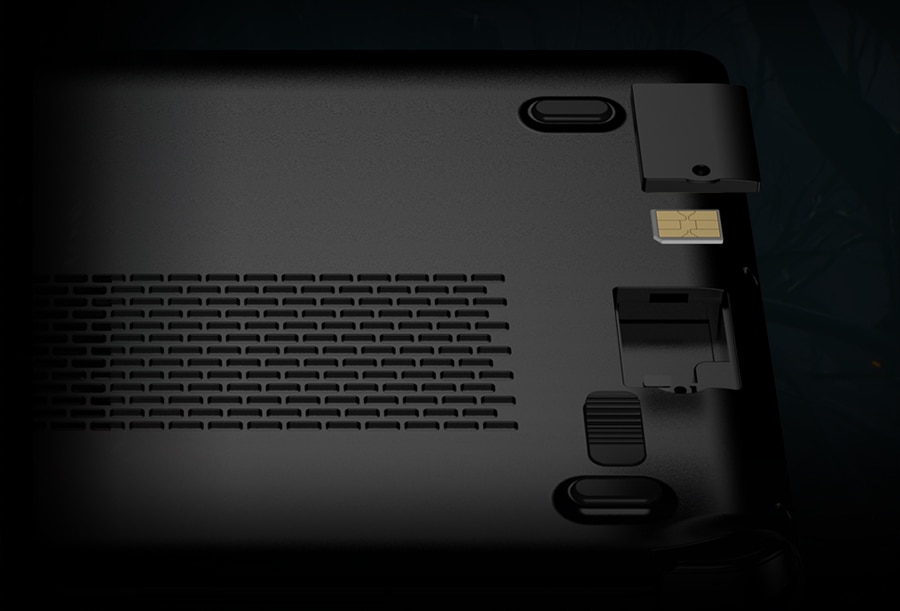 High-speed SD And MicroSD Slots Added For Photographers/Players
GPD users include photography enthusiasts who need to transfer a large number of photos to their notebooks. For them, one disadvantage of the small, portable GPD handheld compared to larger notebooks is the lack of a built-in SD card slot. And we've finally made up for this shortcoming with WIN Max 2!
The SD slot of WIN Max 2 is connected to the UHS-II bus. Based on the SD 4.0 bus protocol, it supports the transmission of up to V90 video files at a read and write speed of up to 312MB/s and inserting an up to 2TB SDHC/SDXC/SDUC card.
WIN Max 2 is also equipped with a microSD card slot that is connected to the UHS-I bus, supports the transfer of A2, U3, V30 files at a read and write speed of 160MB/s, to a microSDHC / microSDXC / microSDUC card.


Backlit Keyboard With 2-level Brightness Adjustment And Precision Touchpad With Gesture Customization Support, All For Higher Input Comfort
To improve the typing experience, we've added a backlit keyboard that has 2 brightness levels to Max 2, allowing you to always see legends comfortably regardless of the ambient brightness. In addition, to address concerns about touch accuracy and improve touch input comfort, we've also added the Precision Touchpad driver for Max 2, which supports touch gesture customization with the Touchpad configuration tool that comes with Windows.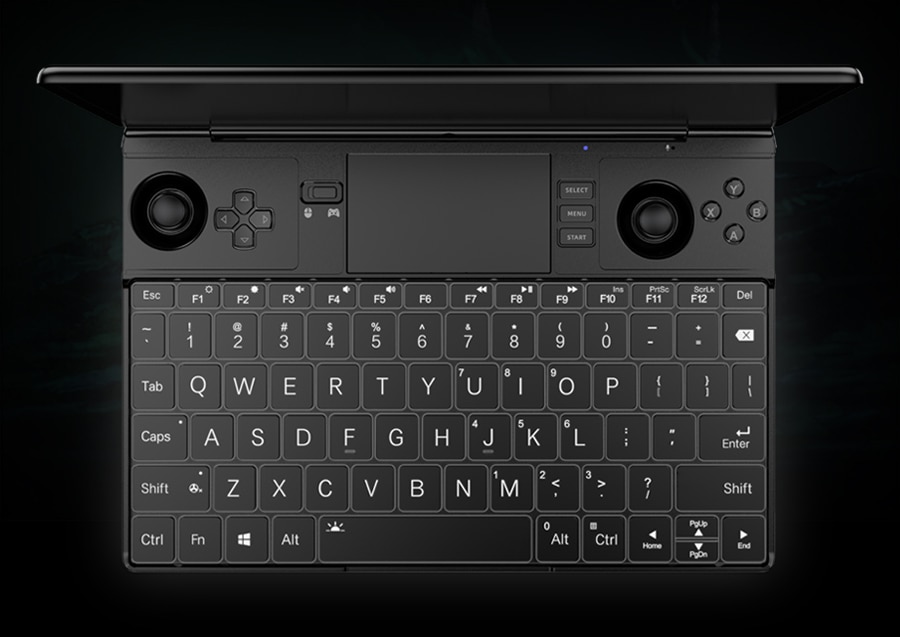 4 Indicators For Fast Checking Of Current Working Status
The machine is equipped with 4 working status indicators (caps lock, fan on/off, running status, charging status), allowing you to quickly understand the current running status after performing related operations.

First Of Our Device To Introduce Side Mounted Power Button With A Fingerprint Sensor
The power button of a traditional laptop would mostly be on its C side. So, when using the laptop with an external monitor, it will be locked every time you close the laptop and leave, to use it again you must open the top cover and enter the password, which can be very troublesome. To solve this problem, WIN Max 2 is equipped with a side mounted power button with a fingerprint sensor, which allows for a very convenient one-click power on + unlock (regardless of whether the machine is closed or not)!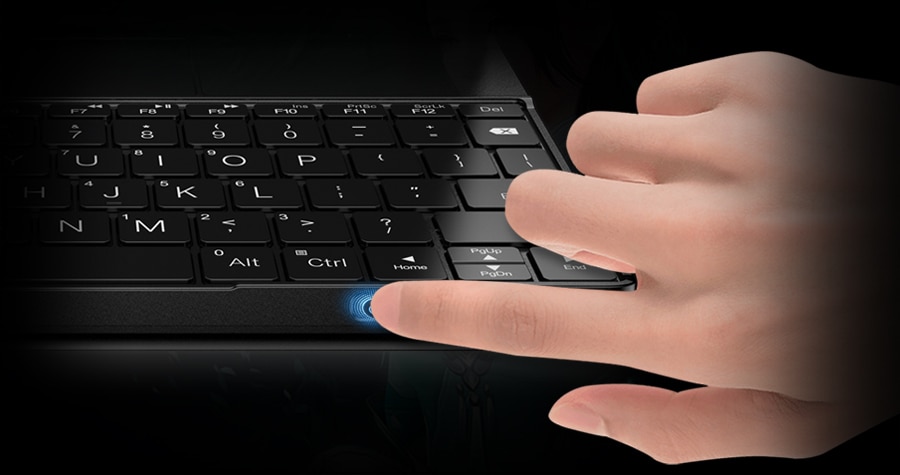 Built-in 4-channel Intelligent Amplifier And 4 Super Linear Surround Sound Speakers
Thanks to its 2 AAC Super Linear Speakers with Double Amplitude Boost, WIN 3's sound performance is very well received by users! This time, WIN Max 2 is further upgraded with 4 super-linear speakers to achieve surround sound. And it also uses a high PSRR intelligent 4-channel amplifier with higher energy efficiency and lower noise. Whether watching videos or playing games, Max 2 can always bring you immersive and cinematic 3D surround sound!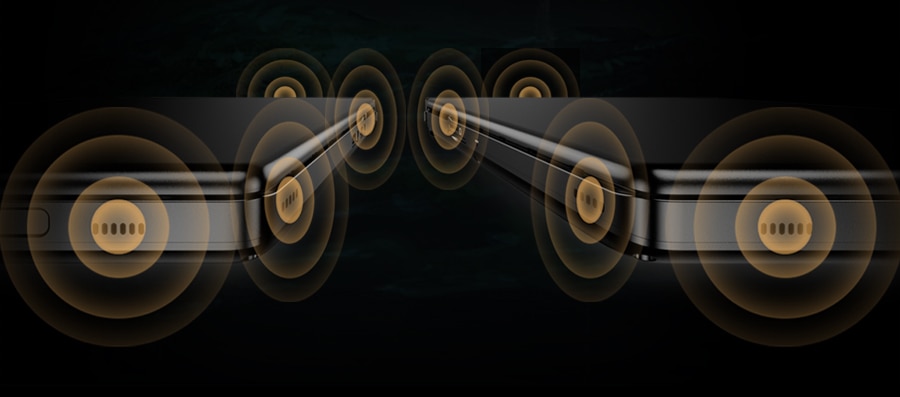 Built-in 2 Million Pixel Camera With Ultra-wide Viewing Angle And High Refresh Rate
WIN Max 2 has a built-in 2-megapixel camera with a maximum resolution of 1612×1212. It boasts an ultra-wide viewing angle and a high refresh rate for a better live video conferencing experience.

67Wh High Capacity Battery, Supporting Up To 5 Hours Of Continuous Gaming
With a higher capacity (67Wh) than all thin and light laptops on the market, Max 2 brings you the ultimate experience in terms of battery life. With only one full charge, the battery supports up to 14 hours of office work, 6~8 hours of local 1080P video playback, and 5 hours of gaming.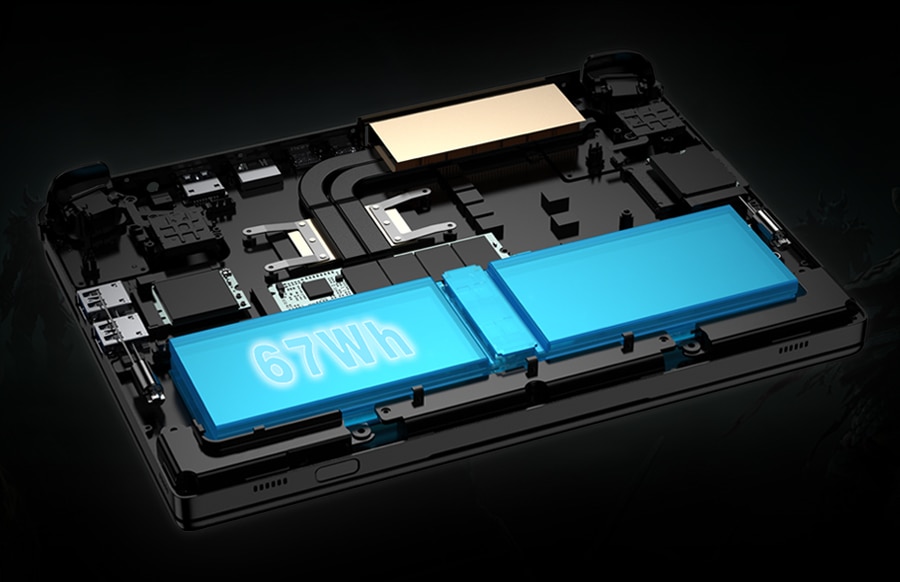 100W PD Super Charger , From 0 to 50% In About 20 Minutes
The included PD 3.0 100W super charger can charge the machine from 0 to 50% in about 20 minutes. A 5-minute charge can support up to 2 hours of work. Also, the charger supports all fast-charging protocols for phones and tablets, so it can be the only charger you carry when going out!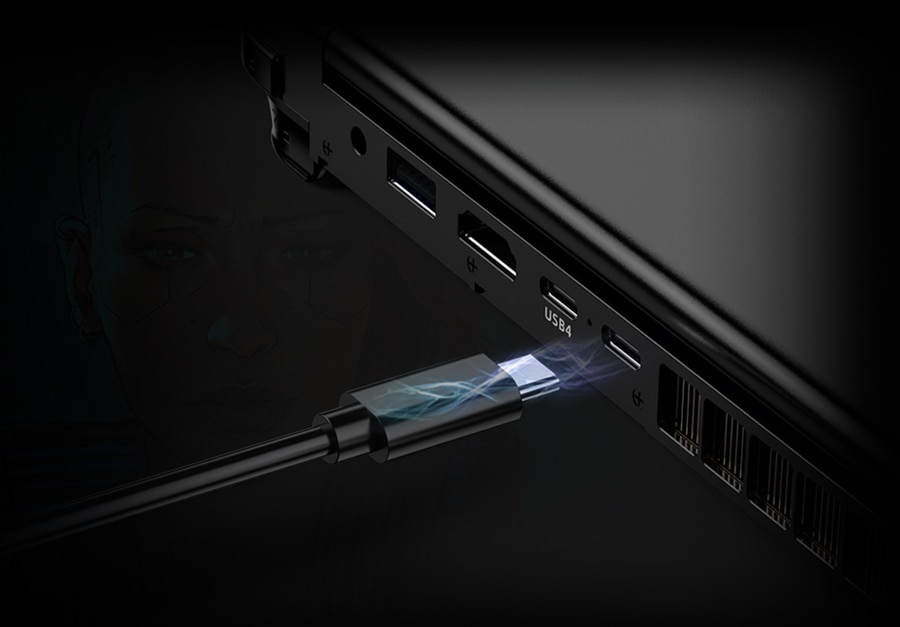 ---
Battery lifetime: up to 13 - 15 hour
Keyboard language: English
Keyboard backlit type: Monochrome
Wireless Interfaces: Wi-Fi 6 (802.11ax)
Screen surface: Glossy
CPU Brand/Model: AMD Ryzen 7 6800U​
Weight (Battery Included): <1.5Kg
Screen Refresh Rate: 60Hz
Video Memory Capacity: Main memory allocated memory
Dimensions (WxHxD): 227 160 23
Body Material: Magal
RAM: 32GB
Panel Type: IPS
Display resolution: 1920x1200
Operating System: Windows 10,Windows 11,windows 10 pro
Feature: Camera,Backlit Keyboard,Touchscreen,4G
Average Battery Life(in hours): 6-8
Thickness: ≥20mm
Package: Yes
Hard Drive Capacity: 2TB
Port: Thunderbolt 4,1×USB 3.1 Gen1 ,1×USB 3.2 Type C
Display Ratio: 16:10
Optical Drive Type: None
Display Size: 10.1"
Hard Drive Type: SSD
Graphics Card Model: AMD Radeon 680M
Type: Pocket Laptop
Brand Name: GPD
Origin: Mainland China
Certification: CE
SHIPPING AND DELIVERY
We are proud to offer international shipping services that currently operate in over 200 countries and islands world wide. Nothing means more to us than bringing our customers great value and service. We will continue to grow to meet the needs of all our customers, delivering a service beyond all expectation anywhere in the world.
How do you ship packages?
Packages from our warehouse in China will be shipped by ePacket or EMS depending on the weight and size of the product. Packages shipped from our US warehouse are shipped through USPS.
Do you ship worldwide?
Yes. We provide free shipping to over 200 countries around the world. However, there are some location we are unable to ship to. If you happen to be located in one of those countries we will contact you.
What about customs?
We are not responsible for any custom fees once the items have shipped. By purchasing our products, you consent that one or more packages may be shipped to you and may get custom fees when they arrive to your country.
How long does shipping take?
Shipping time varies by location. These are our estimates:
| Location | *Estimated Shipping Time |
| --- | --- |
| United States | 10-30 Business days |
| Canada, Europe | 10-30 Business days |
| Australia, New Zealand | 10-30 Business days |
| Central & South America | 15-30 Business days |
*This doesn't include our 2-5 day processing time.
Do you provide tracking information?
Yes, you will receive an email once your order ships that contains your tracking information.
My tracking says "no information available at the moment".
For some shipping companies, it takes 2-5 business days for the tracking information to update on the system.
Will my items be sent in one package?
For logistical reasons, items in the same purchase will sometimes be sent in separate packages, even if you've specified combined shipping.
If you have any other questions, please contact us and we will do our best to help you out.
REFUNDS & RETURNS POLICY
Order cancellation
All orders can be cancelled until they are shipped. If your order has been paid and you need to make a change or cancel an order, you must contact us within 12 hours. Once the packaging and shipping process has started, it can no longer be cancelled.
Refunds
Your satisfaction is our #1 priority. Therefore, if you'd like a refund you can request one no matter the reason.
If you did not receive the product within the guaranteed time(60 days not including 2-5 day processing) you can request a refund or a reshipment.
If you received the wrong item you can request a refund or a reshipment.
If you do not want the product you've receive you may request a refund but you must return the item at your expense and the item must be unused.
Your order did not arrive due to factors within your control (i.e. providing the wrong shipping address)
Your order did not arrive due to exceptional circumstances outside the control of CNTRONIC Consumer Electronics Retailer (i.e. not cleared by customs, delayed by a natural disaster).
Other exceptional circumstances outside the control of cntronic.com
*You can submit refund requests within 15 days after the guaranteed period for delivery (60 days) has expired. You can do it by sending a message on Contact Us page
If you are approved for a refund, then your refund will be processed, and a credit will automatically be applied to your credit card or original method of payment, within 14 days.
Exchanges
If for any reason you would like to exchange your product, perhaps for a different size in clothing. You must contact us first and we will guide you through the steps.
Please do not send your purchase back to us unless we authorise you to do so.
LARGE ORDER DEALS

Thank you for your interest doing business with us!
If you would like to get a discounted price for your large purchase orders, fill in the required blanks along with your email address, the product Item ID # and/or the link of the item that you want to order, item quantity (minimum of 30 pieces), shipping country and payment method is required. We will contact you with a discounted price as soon as we receive your inquiry.